This past week, we were asked to read a total of 30 books and write a post about our top 15… So that is this post!
1. The Stinky Cheese Man and Other Fairly Stupid Tales by Jon Scieszka
This was by far my favorite story I've read. Just listening to this story was hilarious and had it's own unique storyline. The fact that it had a narrator that would go in and out of different stories allows readers to feel in control of the stories. This book has a major advantage because it is does not focus around one story.
2. Goldilocks and the Three Bears by James Marshall
My second choice is a classic. This story I can remember as far back as my memories can go. The story of Goldilocks going through the different bears items makes for a funny story. The best thing about this story is when I was reading it, I could still hear (in my head) my old librarian making the different characters have different voices.
3. There Was an Old Lady Who Swallowed a Fly by Simms Taback 
Even though this is 3rd on my list, I consider it tied with #2. This book is funny but my favorite part of this book is the illustrations. The text being incorporated in the images makes the text look fun and matches the story perfectly. Another great thing is the little cut outs of the old lady so you can see the what the old lady swallowed. It gives the illustrations interactions with the pages before and that just adds to the unique design.
4. The Spider and the Fly by Mary Howitt
This book is perfect for the Halloween time. It has a scary vibe and the dark illustrations just add more and more to this vibe. The fact that this children's book is based off of a poem just makes it more interesting to me. If you were working with older grades, this could be a great introduction to poetry. 
5. The Ugly Duckling by Hans Christian Andersen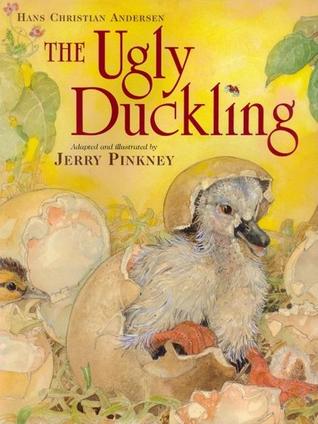 This story is a classic and it never gets old. The fact of bring cute little ducklings can make any reader of any age happy! Of course animals can not talk but the real life situations between animals give a sense to kids this could actually happen. The story is adorable and gives a sense of hope when reading it. 
6. Extra Yarn by Mac Barnett
This was one book I have never heard of before this course. This was still a great story that took an unexpected twist. Of course this twist was needed in order to make the story interesting. The fact of the little kid making a ton of sweaters for her animals warmed my heart! 
7. The Adventures of Beekle: The Unimaginary Friend by Dan Santat
Beekle, the unimaginative friend is a very fun illustrated story! This story is something that does not take a long time to get into the plot. Once we get back the couple first pages, Beekle starts on his journey. This is great because it will keep children involved for a longer time.
8. Tops & Bottoms by Janet Stevens 
This children's book seems to be more difficult of a read because it has much more words per page than some of past children's books on this list. With that being said, the story goes more in depth than others but has a great story about learning to work together even through differences. 
9. A Ball for Daisy by Chris Raschka 
A Ball for Daisy is one of the unique books I've seen because the book itself does not give you a story but you have to imagine one. Since everyone's imagination is different, I think this book can allow great classroom discussion and really let everyone speak their own opinion without worrying about being wrong!
10. Waiting by Kevin Henkes
This book is pretty heartwarming. It has a great story about waiting and never knowing what you could be waiting for or what is going to happen in the future but you enjoy your time with your friends and family. This book is a pretty simple read so you could be able to read with most classes.
11. First the Egg by Laura Vaccaro Seeger
This book has similar illustrations to "There was an Old Lady who swallowed a Fly" because the illustrator cut out some parts of one page in order to make it incorporate with other pages. This gives the book a type of interaction that is more than just reading the story. This book is also a simple read so you could read it with almost all classes.
12. All the World by Liz Garton Scanlon
The illustrations in this book are a little different because they are realistic looking. The story also has a very nice rhythm to it when reading out loud. Overall, the tone is what made me like this book more than anything. 
13. Nana in the City by Lauren Castillo
Nana in the City is about a little kid going to see their very loved Nana but has to endure the troubles of the city. It is a sweet story because Nana is able to show the child why she loves the city and spend time with her grandchild. 
14. Puss in Boots by Charles Perrault
At this point in the list, I have probably said the illustrations look great in every book but this one especially! The art looks so precise, it is hard to believe it is for a children's book! Puss is a fun character to follow and the adventure is intriguing!
15. Zin! Zin! Zin! A Violin by Lloyd Moss
The rhyme pattern in this makes the story flow really nicely. Rather than kids sitting down and listening, I would have them read along out loud because the way the words flow…they are just asking to be sung. The illustrations are also very fun and appealing.
These books were all awesome and had their own unique stories and illustrations. I would use all of these books in my own classroom for sure!
Until next time,
-Rachel
*All images are from Goodreads.com*